Mali Country Profile – Geography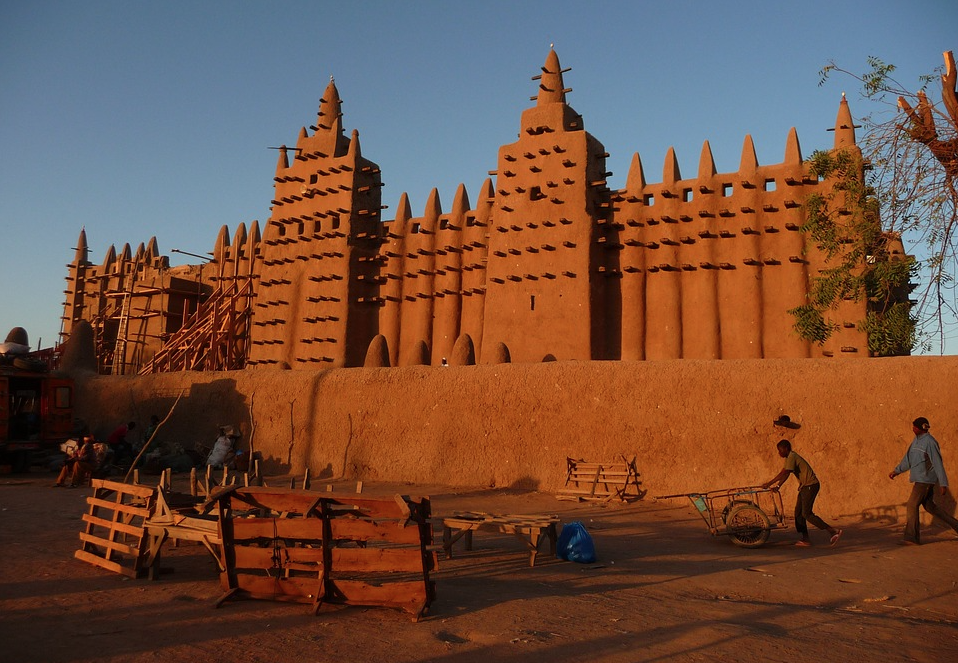 From Cia Factbook (Page last updated on October 13, 2020)
Location: interior Western Africa, southwest of Algeria, north of Guinea, Cote d'Ivoire, and Burkina Faso, west of Niger
Area:
total: 1,240,192 sq km
land: 1,220,190 sq km
water: 20,002 sq km
Land boundaries:
total: 7,908 km
border countries (7): Algeria 1359 km, Burkina Faso 1325 km, Cote d'Ivoire 599 km, Guinea 1062 km, Mauritania 2236 km, Niger 838 km, Senegal 489 km
Coastline: 0 km (landlocked)
Maritime claims: none (landlocked)
Climate: subtropical to arid; hot and dry (February to June); rainy, humid, and mild (June to November); cool and dry (November to February)
Terrain: mostly flat to rolling northern plains covered by sand; savanna in south, rugged hills in northeast
Elevation:
mean elevation: 343 m
lowest point: Senegal River 23 m
highest point: Hombori Tondo 1,155 m
Natural resources: gold, phosphates, kaolin, salt, limestone, uranium, gypsum, granite, hydropower, note, bauxite, iron ore, manganese, tin, and copper deposits are known but not exploited
Land use:
agricultural land: 34.1% (2011 est.) – arable land: 5.6% (2011 est.) / permanent crops: 0.1% (2011 est.) / permanent pasture: 28.4% (2011 est.)
forest: 10.2% (2011 est.)
other: 55.7% (2011 est.)
irrigated land: 3,780 sq km (2012)
Population distribution: the overwhelming majority of the population lives in the southern half of the country, with greater density along the border with Burkina Faso.
Natural hazards: hot, dust-laden harmattan haze common during dry seasons; recurring droughts; occasional Niger River flooding
Environment – current issues: deforestation; soil erosion; desertification; loss of pasture land; inadequate supplies of potable water
---

---
These products are the results of academic research and intended for general information and awareness only. They include the best information publicly available at the time of publication. Routine efforts are made to update the materials; however, readers are encouraged to check the specific mission sites at https://minusma.unmissions.org/en or https://peacekeeping.un.org/en/mission/minusma.