COL Jay Liddick
Director, PKSOI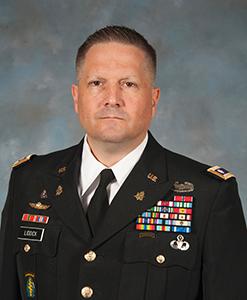 Colonel Jay Liddick graduated from Indiana University of Pennsylvania and was commissioned as a Second Lieutenant in the United States Army Corps of Engineers in May, 1995.
His previous duty positions include Assistant Battalion S4, Vertical Platoon Leader, Sapper Platoon Leader, Company Executive Officer, Brigade S3 Air, Assistant Brigade Operations Officer, Deputy Assistant Division Engineer, Company Commander, Deputy CMOC Chief, CMOC Chief, Company Commander, Battalion Executive Officer, Brigade S3, Battalion Commander, HRC Civil Affairs Branch Chief, Deputy Brigade Commander, Civil Affairs Advisor/Irregular Warfare Integrator at the U.S. Army Peace Keeping and Stability Operations Institute (PKSOI), Civil Affairs Commandant, and Civil Affairs Capability Manager assigned to the USASOC Force Modernization Center. He is currently Director of PKSOI.
Colonel Liddick has deployed to the Dominican Republic, Bosnia, Iraq, Colombia, Afghanistan, and Indonesia, and he served a one-year tour in Honduras.
His highest award is the Bronze Star Medal with Oak Leaf Cluster. His military schools include the Engineer Officer Basic Course, Airborne School, Ranger School, 82nd Airborne Jumpmaster School, Field Artillery Officer Advance Course, the U.S. Army Combined Arms and Services Staff School, the USJFKSWCS Regional Studies Course, the USJFKSWCS Civil Affairs Qualification Course, the USJFKSWCS Spanish Language Course, the U.S. Army Command and General Staff College, and the U.S. Army War College.
Colonel Liddick has earned the Ranger Tab, Master Parachutist Badge, and Combat Action Badge, and he holds a Masters of Strategic Studies from the U.S. Army War College and a M.A. degree in International Relations from Webster University.
Since 24 October 1998, Colonel Liddick has been blessed to be married to the former Angela R. Canady of Fayetteville, North Carolina.