Somalia Country Profile – Military / Security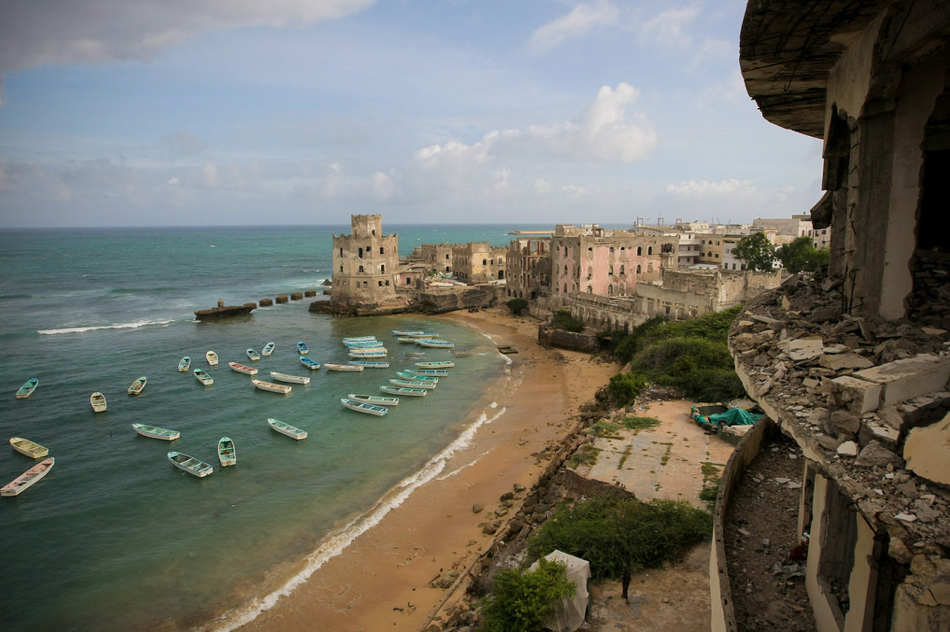 From Cia Factbook (Page last updated on October 09, 2020)
Military and security forces: Somali National Security Forces: Somali National Army (SNA), Somali National Police (SNP, includes a maritime unit), National Intelligence and Security Agency (NISA) (2019).
Military and security service personnel strengths: estimates of the size of Somali National Army (SNA) vary widely because of inconsistent and unreliable data, as well as the ongoing integration of various militias; as of January 2020, estimates ranged from approximately 10,500-20,000; note – in 2017, the Somali Government announced a plan for the SNA to eventually number 18,000 troops; the same plan called for 32,000 federal and regional police (2019 est.) /note: the US-trained Danab ("Lightning") Brigade numbers about 850 personnel as of April 2020; the unit intends to eventually have as many as 3,000 soldiers.
Military equipment inventories and acquisitions: the SNA inventory includes a variety of older, second-hand equipment largely from Italy, Russia, South Africa, and the UK; since 2015, it has received limited quantities of second-hand equipment from China, France, Italy, Qatar, and the United Arab Emirates, usually as aid/donations (2019 est.).
Military service age and obligation: 18 is the legal minimum age for compulsory and voluntary military service (2012).
Maritime threats: the International Maritime Bureau continues to report the territorial and offshore waters in the Gulf of Aden and Indian Ocean as a region of significant risk for piracy and armed robbery against ships; during 2018, two vessels were attacked compared with five in 2017; Operation Ocean Shield, the NATO naval task force established in 2009 to combat Somali piracy, concluded its operations in December 2016 as a result of the drop in reported incidents over the last few years; additional anti-piracy measures on the part of ship operators, including the use of on-board armed security teams, have reduced piracy incidents in that body of water; Somali pirates tend to be heavily armed with automatic weapons and rocket propelled grenades; the use of "mother ships" from which skiffs can be launched to attack vessels allows these pirates to extend the range of their operations hundreds of nautical miles offshore.
Military – note: Somali military forces are heavily engaged in operations against the al-Shabaab terrorist organization, including joint operations with the African Union Mission in Somalia (AMISOM); AMISOM has operated in the country with the approval of the United Nations (UN) since 2007; AMISOM's peacekeeping mission includes assisting Somali forces in providing security for a stable political process, enabling the gradual handing over of security responsibilities from AMISOM to the Somali security forces, and reducing the threat posed by Al-Shabaab and other armed opposition groups; as of early 2020, AMISOM had about 19,000 military troops and about 1,000 police personnel from six African countries deployed in Somalia.
UN Assistance Mission in Somalia (UNSOM) is mandated by the Security Council to work with the Federal Government of Somalia to support national reconciliation, provide advice on peace-building and state-building, monitor the human rights situation, and help coordinate the efforts of the international community.
The UN Support Office in Somalia (UNSOS) is responsible for providing logistical field support to AMISOM, UNSOM, the Somali National Army, and the Somali Police Force on joint operations with AMISOM.
the European Union Training Mission in Somalia (EUTM-S) has operated in the country since 2010; the EUTM provides advice and training to the Somali military.
The US and Turkey maintain separate unilateral military training missions in Somalia (2020).
Other information on Somalia – Military / Security:
Despite some achievements, the security situation in Somalia remains tenuous, due largely to the limited capability of Somalia's National Army and Police Force and the resulting inability to provide liberated areas with reliable security. As expressed in April 2018 by the Special Representative of the Secretary-General for Somalia and Head of the UNSOM, "managing the politics of security is a prerequisite for success in building security institutions." He further stated:
Obstacles to be overcome include domestic Somali opposition particularly from those groups whose patronage and power will be negatively affected; an ongoing fractious political landscape with competition between the Federal Government of Somalia (FGS) and emerging and existing FMS whereby the FGS insists that partners (both troop contributing countries as well as security donors) align their support to nationally agreed priorities and plans; urgent security timelines that deny real space and time for Somali politico-security negotiations; the dilemma emanating from restructuring security forces while actively fighting a war; and international approaches to security driven by domestic/homeland (rather than Somali) security priorities or by imperatives relating to other agendas and rivalries in the region.
State Armed Groups.
Somalia National Security Forces (SNSF), Somalia National Army (SNA), and Somalia Police Force (SPF). 18 is the minimum age for military service. While the armed forces also contain a small navy and air force, the bulk of the personnel serve in the army.
The SNA operates in concert with AMISOM forces to dislodge al-Shabaab from safe havens. It is infantry-heavy but support- and logistics-light. Currently it is still clan-based within units and lightly armed. In April 2018, one official highlighted:
…the SNA is much less combat-ready, despite the continued efforts of AMISOM, the US [sic], and other Western partners…It remains undermanned, poorly equipped, and ineffective. Officials tell stories of SNA forces training without firearms. SNA forces sometimes flee their positions at the first rumors of approaching Al Shabaab forces.
AMISOM and the Government of Somalia report that 20,000 forces are under federal control. However, a2017 World Bank/United Nations Somalia Security and Justice Public Expenditure Review suggested there are 40-45,000 total Somali armed personnel, with 17,000 of them serving in the SNA. Many soldiers allegedly sell their equipment and/or defect to clan-based armed groups or even to al-Shabaab. Some have turned to crime (e.g., extortion at illegal checkpoints, armed robberies). The FGS goal is to grow the SNA to 28,000-strong national army and the police force to 12,000.
There are apparently still hostile divisions within the SNA, which were displayed during the fighting at the UAE Mogadishu training facility in April 2018. When the UAE and Somalia suddenly terminated their security cooperation agreement, the UAE personnel left the facility in the hands of some Somali forces in the midst of their training. Soon afterwards, other SNA forces attacked the base, possibly to loot the equipment. The two groups exchanged gunfire until the presidential guard secured the area.
The European Union Training Mission (EUTM) conducts training for the SNA, with ambiguous results. The U.S. has also provided tens of millions of dollars towards equipment, training, and education of Somali military and police.
The Somali National Intelligence and Security Agency (NISA) leads national counter-terrorism efforts, albeit with troubling issues with human rights. The Alpha Group (Gaashaan, or "lightning"), is a force of 600 security personnel based in Mogadishu. It was allegedly trained and equipped by the Central Intelligence Agency (CIA) and U.S. Special Forces Command.
Other government-funded forces include the following: Somaliland's forces; Puntland's forces; Galmudug Interim Administration (GIA); and Jubbaland forces. They are aligned with the specific states or semi-autonomous regions in Somalia and are not available for operations within other Somalia regions—except when arrayed against each other, such as in the recurrent violence between Galmudug and Puntland.
b. Non-State Armed Groups. The distinction between state and non-state armed groups remains problematic:
Non-state armed groups — especially clan paramilitaries — have successfully adapted to the re-establishment of the formal security sector by colonizing it. The multiple hatting of armed men in Mogadishu, as soldiers or police, private security guards, and members of clan paramilitaries is a good business model as long as external actors are willing to underwrite the formal security sector. But it makes for a weak and unreliable security sector that is not autonomous from more powerful communal groups.
While there are many small armed groups, generally for local or clan self-defense, the major non-state armed groups are:
Al-Shabaab. (AS). According to some sources, al-Shabaab controls about a fifth of Somalia and is considered the principal threat to peace and security in Somalia. The group emerged as the youth wing of Somalia's previous Union of Islamic Courts. According to the Department of National Intelligence (DNI), the group's members are mostly concerned with the fight against the Federal Government of Somalia (FGS), and are not supportive of global jihad.[i] However, some of the group's leaders are affiliated with al-Qaeda. AS fighters do not always wear a uniform that is distinguishable. Yet, when conducting an attack, they frequently wear orange bandanas on their arms and foreheads.[ii]
Al-Shabaab aggressively recruits new forces from the Bay and Bakol region, including children who are indoctrinated through local Islamic schools.[iii] While the group has had reverses, it remains capable of targeting AMISOM, Somali security forces, and government officials with ambushes, IEDs, and small-level attacks throughout much of the country, including Mogadishu. AS has also targeted peace and democracy activists, civil society leaders, and humanitarian workers. The group is also responsible for numerous high-profile terrorist attacks in neighboring Kenya and Djibouti.
Perhaps the most significant distinction of al-Shabaab compared to the FGS is its ability to exert control and offer services to the population:
Al-Shabaab remains a viable local actor for the provision of basic services and, in particular, security and justice. To date, national security forces have focused on force alone and have neglected building political consensus and legitimacy within communities they serve. They are thus yet to demonstrate their comparative value to al-Shabaab in many areas. At present, al-Shabaab presents itself as providing Somalia's only effective justice system.
Al-Shabaab also exerts regular taxes (zakawatt) upon the population, providing them with receipts for the payments. These receipts give the population some assurance that they won't be repeatedly taxed. Payments are in the form of monetary compensation from road tolls and businesses, as well as livestock, valued at an estimated $27 million in annual revenue.[iv]
Mu'min, a British citizen, fled the UK for Somalia, his native country, when he was sought for questioning regarding his role in radicalizing local Muslim youth. He is from the Ali Salebaan sub-clan of the Darod/Marjeteen, whose members inhabit the Bari region.In August 2016, the U.S. State Department declared Mu'min a "specially designated global terrorist" and placed him under financial sanctions.
Daesh. Heavily-armed Somali Islamic State (IS) fighters operate in Somalia's Puntland overlooking the Gulf of Aden. Their leader, Sheikh Abdulqadir Mu'min, defected from al-Shabaab. In 2015, Mu'min video-taped a pledge of allegiance (bay'a) to Daesh. While the defection failed to split al-Shabaab, it did challenge its ideological cohesion and allegiances within the Somali clans. It is alleged that Mu'min recruits through kidnapping of children. In early 2017, Daesh elements moved away from the urban areas of Puntland and into the mountains, but continued its attacks in the urban areas. In November 2017, U.S. airstrikes targeted the area where Mu'min was allegedly located, but did not find him there.
Clan Militias: Perhaps the most complicated challenge for the Somalia National Security Forces (SNSF) is Somalia's multitude of militias, many of which are "clan-based self-protection forces," who put clan loyalty above federal government loyalty.
Organized Criminal Elements (Domestic and Transnational): Pervasive and violent crime is an extension of the general state of insecurity in Somalia. Crimes are often brutal—sometimes fatal—and include kidnapping. Organized crime in Somalia exists at all levels of society and in many forms, the most prevalent being piracy. Al-Shabaab is allegedly financed through a diverse portfolio of criminal racketeering, illicit trafficking, extortion, and corruption as part of a larger transnational criminal enterprise.
c. Other International Actors. In the past decade, Somalia began reintegrating into the international community by establishing and developing stronger ties with the United States and the European Union among others.
Regional Neighbors. The political turmoil in Burundi is dangerous to Somalia for at least two reasons: the "spill over" of instability (due to refugees and other related discord) continues to have significant regional impact in general, and the Burundi government may choose to withdraw its forces from AMISOM earlier than currently planned.
The Ethiopian government essentially consists of Tigrayan ethnic minority members. Protests in 2016-17 revolved around perceptions of partiality in the job market and public policy. The government allegedly detained some 25,000 people and killed several hundred others.
Ethiopia has generations of influence and conflict with Somalia. In the more recent decades, Ethiopia's military presence in Somalia has been "invited" by Somali authorities or as a participant in AMISOM. However, many in Somalia regard the Ethiopian involvement in Somalia's security affairs with great suspicion as a strategic ploy to annex more Somali land. Ethiopia recently began the withdrawal of their troops from AMISOM early, allowing the militant groups to claim significant areas without opposition. While many experts believe the force reduction is due to unrest in Ethiopia, the government cited the "financial burden" and "lack of support" as the influential factors.
Kenya has a significant number of Somalia minority in its population. It also has a long history of intervening or sending its security forces in Somalia. In 2011, Kenya launched an offensive operation against al-Shabaab in Somalia codenamed "Operation Linda Nchi" (Operation Protect the Nation). While it was given as a reaction to a series of kidnappings, the scale of the operation indicates that plans for such an offensive had been underway for some time. In more recent years, Kenya's security agents in the northeastern country of Mandera began working with the Somalia administration in Bula Hawo to help curb cross-border incursions by the Islamist militants. In October 2016, the Kenyan government commenced the building of a 30-kilometer security wall "to ward off infiltration by al-Shabaab militants," but suspended construction in March 2018 due to protests on the Somali side of the border.
Other Countries. Turkey is the second largest donor of humanitarian aid in Somalia. Sometimes referred to as the Turkish model, Turkey provided Somalia almost USD$122 for infrastructure and water projects, hospitals, schools, and mosques, as well as its largest overseas military training camp. Turkey appears to be competing against the UAE, which established a base in Somaliland and a presence in Puntland.
China spends a great deal of money in Somalia between AMISOM contributions and business agreements (notably, a separate agreement with Puntland to conduct oil and gas exploration, both inland and off-coast). Russia may also have an interest in Somalia as part of its "Pivot to Africa." For example, according to unconfirmed reports, Russia is building a military base in Somaliland in exchange for international recognition as a sovereign state and military training for Somaliland's own "army." North Korea has a history of several decades of Somali military engagement, from the 1970s technical assistance to Somali against Ethiopia, continuing to 2017's alleged sale of arms to all parties of the Somali conflict.
While the U.S. and European countries provided Somalia more money—if not direct aid—than Turkey has to date, "
Turkey has cemented its place in the hearts of the Somali people
." One observer explained this fidelity: Muslim organizations…operate on trust. They are based in-country. They focus on development and switch to emergency when necessary. They buy food-aid locally. They are pragmatic, quick to respond. They deal with people directly. And with much money flowing in direct from the faithful – obligatory charitable giving is one of the five pillars of Islam – they don't waste time and resources on paperwork.In contrast…Western NGOs focus on ticking boxes. They operate out of Nairobi. They compete for funding for specific projects, which is not necessarily what people need. They usually import food. They do less on development. They are slow to respond to emergency situations. They concentrate most on proposal writing to capture more market share.
---
[i] U.S. Department of National Intelligence, Terrorist Groups: Al Shabaabhttps://www.dni.gov/nctc/groups/al_shabaab.html
[ii] Interview with AMISOM staff.
[iii] Al-Shabaab Military Machine, Hiraal Institute, December 2018.
[iv] Al-Shabaab Finance System, Hiraal Institute, July 2018.
These products are the results of academic research and intended for general information and awareness only. They include the best information publicly available at the time of publication. Routine efforts are made to update the materials; however, readers are encouraged to check the specific mission site at https://amisom-au.org.