JP 3-07 Joint Stabilization Activities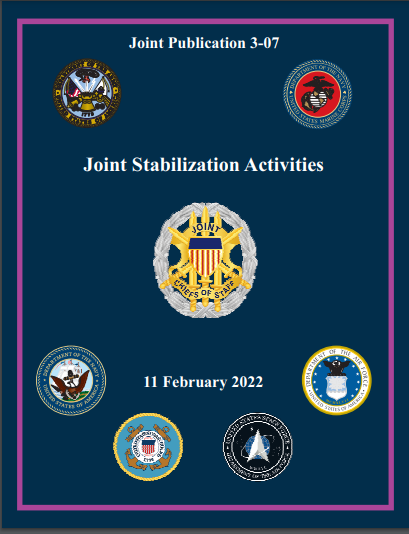 This publication has been prepared under the direction of the Chairman of the Joint Chiefs of Staff (CJCS). It sets forth joint doctrine to govern the activities and performance of the Armed Forces of the United States in joint operations, and it provides considerations for military interaction with governmental and nongovernmental agencies, multinational forces, and other interorganizational partners.
Releasability UNCLASSIFIED. This JP is approved for public release. Access to this publication is unrestricted; distribution is unlimited and releasable outside the combatant commands, Services, National Guard Bureau, and Joint Staff.
To read JP 3-07 Joint Stabilization Activities click on the JDEIS link here: JP 3-07